Ecosystem Restoration Camps
Camp Reedsdale Regeneration is a 3,850 hectare farm located in the largely rural Eastern Cape Province of South Africa. The region was declared a disaster area in 2019 because of a six year drought that hit the province from 2015 until 2021. The devastating effect of this extreme weather event is still being felt in the lives and livelihoods in the region.
While the drought was considered to be the worst in 100 years, there is still much debate about the root cause; climate change or periodic droughts historically associated with the area. What is undeniable, however, is the stark absence of regular rainfall so badly needed for the survival of the farming and livestock industry and the local ecosystems.
Embracing landscape restoration and change in a time of despair
The drought's impact on vegetation and farming conditions has had significant implications for the agriculture sector and has left many in the depths of despair. Some livestock farmers in the region have simply given up and moved to nearby towns like Port Elizabeth (now known as Gqeberha) to seek new livelihoods, while others persevere on the land with an eternal, stubborn optimism typical of farmers, believing (and praying) that the weather pattern will once again shift. But Andrew Bowker, owner of Camp Reedsdale Regeneration, is a pragmatic man, determined to limit losses of productivity and income, and secure a better future for his family by changing the way farming has traditionally been done on his land and introducing new strategies for landscape restoration.
Breaking with farming tradition
While Andrew is only a second generation farmer, his family goes back three generations on the land, with many of his extended family still farming today in the area. His father inherited the livestock farm in 1978, and Andrew took over the reins in 2005. But with the drought's harsh impact on the grazing lands and natural availability of water, the farm's sheep and cattle stock has diminished progressively since 2016. With only 1,000 animals currently on the land, the farm is operating at 50% capacity and without operating at scale, smaller farms like Reedsdale are being swallowed up by the bigger, commercial factory farms in the country.
About 12 years ago Andrew started thinking about approaching things differently to reduce the impact of overgrazing and mitigate against a changing climate with unreliable and unpredictable rainfall. But making a sizeable shift in farming practices is not an easy decision to make as it carries big risks. Andrew is all too aware of this, but believes that the risk of not approaching farming in a more sustainable way poses an even higher risk for the future of the 19 inhabitants on the farm who depend on Reedsdale Regeneration for their livelihoods.
A regenerative strategy for a new beginning
In an effort to reduce some of the risk associated with change, and to identify the most financially viable options, Andrew is adopting two new, key farming practices in tandem: holistic grazing and carbon sequestration.
Inspired by the teachings of Allan Savory and high density grazing models Andrew has made the move towards regenerative agriculture and a holistic management of the land. He is employing a density grazing model with his remaining livestock, moving high concentrations of animals through multiple pastures to enhance soil health and improve the condition of each pasture by allowing the land to recover before grazing is resumed there. His goal is to produce nutrient dense protein from free range animals. He plans to farm only with wethers (known as dry stock) and keep them for shorter periods than usual. In the past the stock would have been sent to market at the end of the rainfall season, thereby reducing the need to purchase fodder when natural reserves on the land dry up. The holistic grazing practice will allow the grassland vegetation to recover between grazing periods, thereby providing year-round feed for the livestock, even in the dry season.
Another aspect of wider holistic land management is taking the natural ecology of the region into consideration. Camp Reedsdale Regeneration is located in the Albany Thicket biome/ecoregion, characterised by shrub-land and savanna grassland mixed with Karoo. But the drought has led to a lack of vegetation and also low water absorption rates in the soil because of the now hard-baked land surface. The much-welcomed rain that finally fell in December 2021 simply ran off the compacted terrain where it was needed most. Now Andrew is introducing a simple but effective technique to stop run-off: placing old car tyres as well as recycled plastic poles on the land to manipulate the water flow and slow it down, which allows the water to seep into the ground, giving plants a fighting chance of regrowing. He has also removed thirsty, invasive Eucalyptus gum trees from the land to increase the underground water table.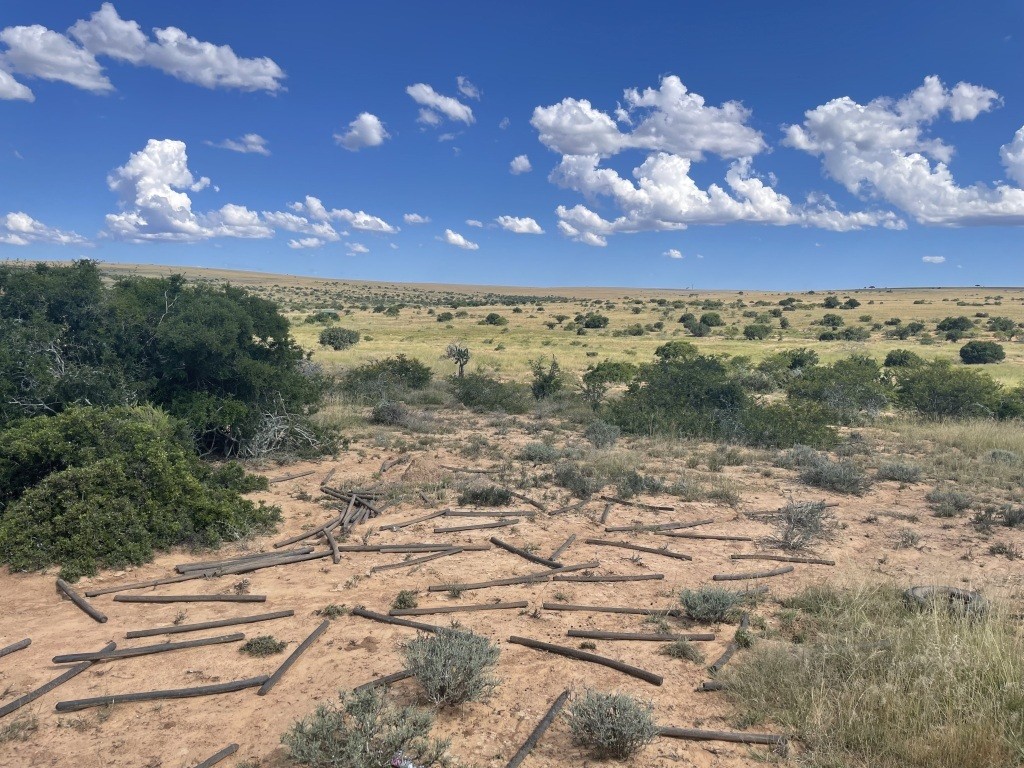 Placement of recycled plastic pipes on the sloping soil slows down water runoff to encourage absorption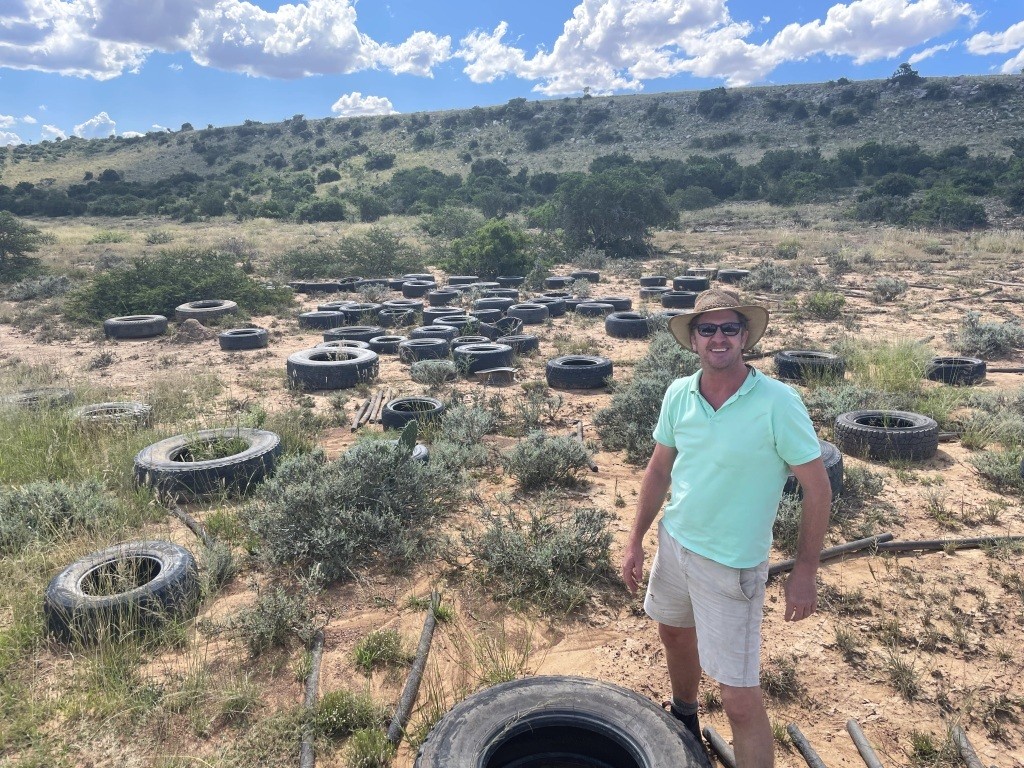 Andrew with the recycled tyres placed on the soil – another measure to slow down runoff
One of the vegetation species occurring naturally in the area is Spekboom (Portulacaria Afra). While the Afrikaans name literally translates to 'bacon tree', Spekboom is a shrub and its leaves have a sour, lemony taste.
Andrew plans to plant hundreds of hectares of Spekboom on the land over the next few years. The easy to propagate, fast-growing plant reaches maturity in about seven years and will grow up two metres tall. Once established they are long-lived and very water wise, and hardly ever subject to pests and diseases.
Not only is Spekboom drought tolerant (and fire resistant), it is also effective in binding soil, helping to prevent soil erosion – and this will complement Andrew's rubber tyre efforts to reduce run-off.
The Spekboom will also provide an additional food source for his grazing sheep herds as this succulent plant – loaded in Vitamin C and other minerals – is eaten by elephants and livestock such as goats and sheep. The livestock at Reedsdale Regeneration Farm will be free to graze in the thickets of Spekboom, which will be planted interspersed with wild plum trees (Harpephyllum caffrum) for diversity and to avoid a monoculture. Wild plum trees are tall, fast growing, indigenous evergreen trees which provide shade and produce a tart, sour fruit, mainly edible by birds, mammals and insects.
This happy combination of shrub and tree growing and the production of livestock will form a silvopastoral agroforestry system on the land, leading to increased biodiversity and improved soil structure and health, amongst many other benefits.
However Andrew's biggest motivation for planting Spekboom is the plant's extraordinary ability to store enormous amounts of carbon. There is a growing market for investing in carbon-reducing environmental projects, as it is a way for big polluters to offset their greenhouse gas emissions and reach compliance through carbon 'credits'. The carbon sequestration market is carefully monitored and the project will need to be officially verified and certified before it can start selling off-set credits. Andrew is already engaging with three of the neighbouring farms as well as a private game reserve to bring them on board the initiative, known as the Gwanishi Project (iGwanishi is the Xhosa name for spekboom). This could result in an impressive 10,000 – 300,000 ha. tract of land in the region that is impacting positively on our atmosphere.
While some consider carbon offsetting to be greenwashing and believe that companies should rather prioritise reducing their emissions, these ecological services offered by nature generate economic benefits to land users. In the case of Reedsdale Regeneration, the carbon project is part of a remarkable transformation from a livestock farm contributing towards the 14.5 percent of total greenhouse gas emissions globally, to a regenerative farm growing a carbon sink with the ability to sequester more than four tons of carbon per hectare, per year, all while restoring the natural ecosystem of the land.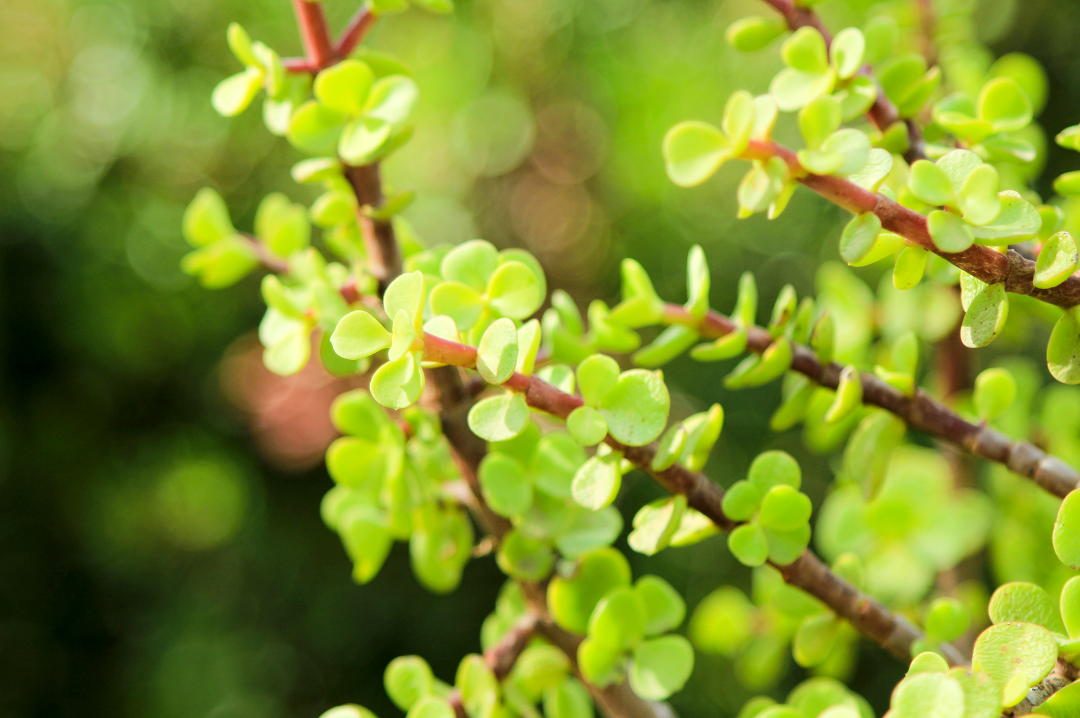 Spekboom (Portulacaria Afra)
An ambition for growth and success
Andrew is determined to prove through- these new practices – that there is a future for people and farming in the area. While many of Camp Reedsdale Regeneration's plans are still at the starting blocks, he is already thinking ahead to the introduction of his next sustainable practice – setting up beehives. Not only are bees great pollinators for the trees, honeycombe can be harvested from their hives to produce honey and mead to generate additional income from the land. Andrew is also keen to set up volunteer opportunities for local and international campers, possibly in partnership with Rhodes University located in the nearby city of Makhanda, commonly known as Grahamstown.
The financial spinoff from Spekboom carbon trading will provide hope for those trying to make a living in a region where climate change is an everyday reality and the likelihood of more frequent multi-year droughts is high.
Andrew also hopes to inspire other farms in the surrounding area to adopt the holistic grazing model.
If he succeeds, these new ways of working the land could prove to be a lifeline for local farmers.
Read more about Camp Reedsdale Regeneration and apply to get involved in this project on their web page.
*Title 'borrowed' from Olive Schreiner's 1883 book: The Story of an African Farm
Ecosystem Restoration Camps